Often referred to as a Greek sandwich, the Souvlaki is skewered meat , grilled to perfection and wrapped in a pita.  Evidence of Greek souvlaki skewers can be traced back to ancient times. Why has this entrée been around for so long? …because this grilled meat dish is sooo delish!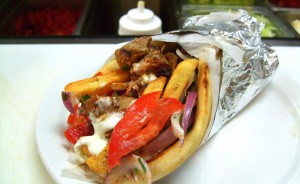 How do we, here at Souvlaki Greek Skewers, prepare our Souvlaki?  We start by marinating high-quality pork, chicken and lamb. After being skewered, we grill the meat to a perfect tenderness over an open flame. While still hot, the meat is garnished with onion, tomatoes, tzatziki sauce, and then served either wrapped within- or on an open faced- pita.
And For Those with Spartan-size Appetites…
Is one skewer just not enough? Try our triple skewer plate! You'll have the choice of pork, bifteki or chicken served on two open-face pitas. Our Soulvaki Plate is garnished with tomatoes, onions and tzatziki.
We, at Souvlaki Greek Skewers, pride ourselves on providing quality food for our customers. Visit us today. We are local. And, we are a paradise for Souvlaki lovers. Join us. We look forward to visiting with you!