The Horaitiki,  widely known as a traditional Greek salad, is recognized as one of the most delicious Mediterranean salads.  This salad has been consumed for many centuries in Greece as a side dish or as a complete meal.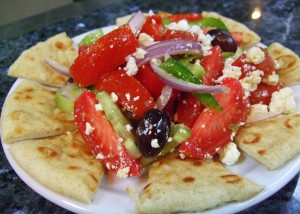 Aside from its wonderful taste, this salad contains much of the desired ingredients from the Mediterranean diet; generous helpings of vegetables, cheese and olive oil.  If you love salads, then treat yourself to something amazing with a Souvlaki Greek Skewer's Horaitiki.  You will be impressed by the sweet nature of this Greek salad when you eat it for the first time.
Our version of Horaitiki is as authentic as it can be.  It's enjoyed for its sweet tangy taste, crunchy texture and colorful vegetable presentation.  The combination of fresh tomatoes, red onions, green peppers and cucumber gives the salad a crunchy sweetness.  While the feta cheese and Kalamata olives lend a crumbly texture and a salty tang.   Not to forget, it's topped off with a dash of Greek herbs and virgin olive oil.  …served with a hand-made pita on the side.  Yum!